Sidewalk Concrete Repair Brooklyn, NY
Concrete repair NY contractor is the most sought-after concrete contractor in New York City. Brooklyn is another area we serve for concrete repair and installations. Brooklyn is the largest and most wealthy borough in New York. All over Brooklyn, our clients are located. Since the past 10 years, we have been doing sidewalks, garage concrete, backyard concrete installations, and repairs throughout Brooklyn. If required, we can provide references. Our number one concern is customer satisfaction. We are licensed and insured contractors. We also have workers compensation insurance. Consumer affairs nyc has licensed us. For concrete-related projects, we work in both residential and commercial buildings in Brooklyn. Here are some of our most popular areas of concrete repair and/or installation. We have completed over 1000 projects. Concrete sidewalk repair and installation Crown Heights, Brooklyn, NY, Concrete violation removal, Flatbush, Brooklyn, NY, concrete garage and backyard project, Prospect Park, Brooklyn, concrete projects in Kensington, Brooklyn, concrete repairs, and installations in Midwood, Brooklyn, NY, concrete installation and repair work by concrete repair NY Bay Ridge,
Brooklyn, NY.
Brooklyn, NY. Aside from having beautiful, long-lasting surfaces, concrete sidewalks also last for years, with a typical lifespan of twenty to forty years. The lifespan of these sidewalks depends in large part on the construction quality. Poor materials or design can cause them to fail, so good construction practices are crucial to the lifespan of the sidewalk. To ensure your sidewalks stay looking beautiful for many years, it's best to contact a professional decorative concrete contractor Brooklyn NY for installation.
The first benefit of hiring a concrete sidewalk contractor is that they have the tools and experience to get the job done efficiently. Unlike you, they have many years of experience, so they'll know which tools and equipment to use. That means less time for you and a higher level of satisfaction for your home. Additionally, concrete sidewalk contractors in Brooklyn can use tools and equipment that aren't available to the average DIYer. This can save you money and increase the quality of your sidewalk, which will be a welcome sight to any neighbourhood.
Whether you're looking for a driveway or a new walkway, your sidewalk is the focal point of your property. If it's damaged, it could create a potentially hazardous situation for pedestrians. Small imperfections could even lead to accidents, resulting in tickets or fines. In addition, sidewalk repair services can help you keep your curb appeal up by adding value to your property. So, it pays to find a professional sidewalk contractor who can give you the right service at the right price.
If you're not satisfied with your sidewalk, you can appeal it by calling NYC311 and requesting a re-inspection. Once you've made your request, the city will evaluate your application. If approved, the DOT will contact you and schedule a re-inspection of your sidewalk. If the city approves your appeal, they'll let you know within seventy-five days.
If you've had sidewalk damage, you'll need to document the issue with a photo and contact the contractor. The Department of Consumer Affairs maintains a database of licensed contractors. You can also check if there have been any complaints against the company. If the sidewalk repair near me is deemed negligent, the contractor must make free repairs to the property. To file a complaint, contact the NYC311 hotline or DDC Borough office, or call the NYC DOT's Office of Comptroller's Office. NYC DOT will send a inspector to inspect the work done and determine if the contractor has complied with the

regulations.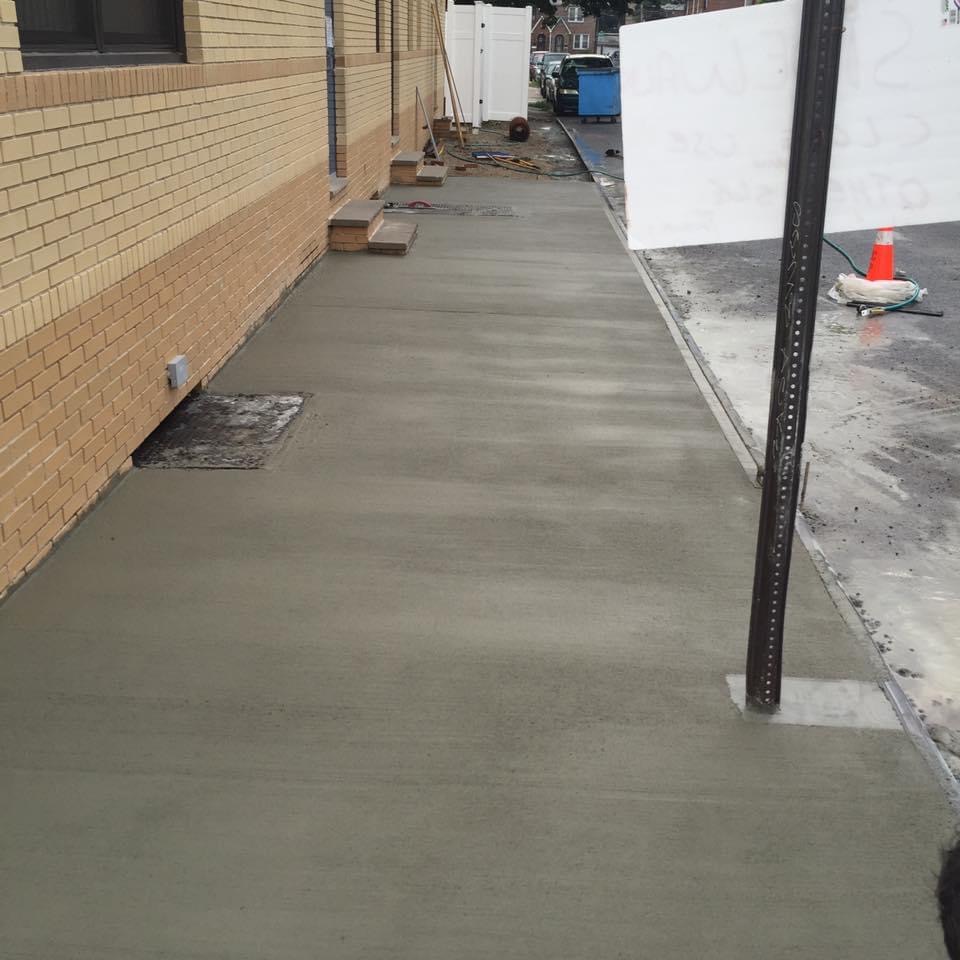 Neighborhood: Bay Ridge Brooklyn Zip Code: 11209
Neighborhood: Bedford-Stuyvesant Brooklyn Zip Codes: 11205, 11206, 11216, 11221, 11233
Neighborhood: Bensonhurst Brooklyn Zip Codes: 11204, 11214
Neighborhood: Bath Beach Brooklyn Zip Code: 11214
Neighborhood: Boerum Hill Brooklyn Zip Codes: 11201, 11217
Neighborhood: Borough Park Brooklyn Zip Code: 11219
Neighborhood: Brighton Beach Brooklyn Zip Code: 11235
Neighborhood: Brooklyn College Brooklyn Zip Code: 11210
Neighborhood: Brooklyn Heights Brooklyn Zip Code: 11201
Neighborhood: Brooklyn Navy Yard Brooklyn Zip Code: 11205-1080
Neighborhood: Brower Park Brooklyn Zip Code: 11213
Neighborhood: Brownsville Brooklyn Zip Code: 11212
Neighborhood: Bushwick Brooklyn Zip Codes: 11221, 11237
Neighborhood: Canarsie Brooklyn Zip Code: 11236
Neighborhood: Carroll Gardens Brooklyn Zip Code: 11231
Neighborhood: Clinton Hill Brooklyn Zip Code: 11205
Neighborhood: Cobble Hill Brooklyn Zip Code: 11201
Neighborhood: Columbia Heights Brooklyn Zip Code: 11231
Neighborhood: Coney Island Brooklyn Zip Code: 11224
Neighborhood: Crown Heights Brooklyn Zip Codes: 11225, 11213
Neighborhood: Cypress Hills Brooklyn Zip Code: 11208
Neighborhood: Ditmas Park Brooklyn Zip Code: 11218
Neighborhood: Downtown Brooklyn Brooklyn Zip Code: 11201
Neighborhood: DUMBO Brooklyn Zip Code: 11201
Neighborhood: Dyker Heights Brooklyn Zip Code: 11228
Neighborhood: East Flatbush Brooklyn Zip Codes: 11203, 11212
Neighborhood: East New York Brooklyn Zip Code: 11207
Neighborhood: Flatbush Brooklyn Zip Code: 11226, 11210
Neighborhood: Flatlands Brooklyn Zip Codes: 11234
Neighborhood: Fort Greene Brooklyn Zip Code: 11205
Neighborhood: Fort Hamilton Brooklyn Zip Code: 11209
Neighborhood: Gowanus Brooklyn Zip Code: 11217
Neighborhood: Gravesend Brooklyn Zip Code: 11223
Neighborhood: Greenpoint Brooklyn Zip Code: 11222
Neighborhood: Greenwood Brooklyn Zip Code: 11232
Neighborhood: Homecrest Brooklyn Zip Codes: 11223, 11229
Neighborhood: Industry City/Bush Terminal Brooklyn Zip Code: 11232
Neighborhood: Jamaica Bay Brooklyn Zip Code: 11236
Neighborhood: Kensington Brooklyn Zip Codes: 11218,11223, 11229
Neighborhood: Kings Highway Brooklyn Zip Code: 11229
Neighborhood: Kings Plaza Brooklyn Zip Code: 11234
Neighborhood: Madison Brooklyn Zip Code: 11229
Neighborhood: Manhattan Beach Brooklyn Zip Code: 11235
Neighborhood: Marine Park Brooklyn Zip Code: 11234
Neighborhood: Midwood Brooklyn Zip Code: 11230
Neighborhood: Mill Basin Brooklyn Zip Code: 11234
Neighborhood: Park Slope Brooklyn Zip Codes: 11215, 11217
Neighborhood: Parkville Brooklyn Zip Code: 11204
Neighborhood: Prospect Heights Brooklyn Zip Code: 11238
Neighborhood: Prospect Lefferts Gardens Brooklyn Zip Code: 11225
Neighborhood: Prospect Park South Brooklyn Zip Code: 11226
Neighborhood: Red Hook Brooklyn Zip Code: 11231
Neighborhood: Sea Gate Brooklyn Zip Code: 11224
Neighborhood: Sheepshead Bay Brooklyn Zip Code: 11235
Neighborhood: Starrett City Brooklyn Zip Code: 11239
Neighborhood: Stuyvesant Heights Brooklyn Zip Code: 11233
Neighborhood: Sunset Park Brooklyn Zip Codes: 11220, 11232
Neighborhood: Vanderveer Brooklyn Zip Code: 11210
Neighborhood: Vinegar Hill Brooklyn Zip Code: 11201
Neighborhood: Weeksville Brooklyn Zip Code: 11213
Neighborhood: Williamsburg Brooklyn Zip Codes: 11206, 11211, 11249
Neighborhood: Windsor Terrace Brooklyn Zip Code: 11215
Neighborhood: Prospect Park Brooklyn Zip Code: 11215
Concrete Contractors – Concrete Installer – Concrete driveway expert – Concrete curb installation – Concrete curb fix – Concrete pour nyc Concrete Violation Remover – Concrete repair nyc – concrete repair Bronx – concrete repair Brooklyn – Concrete paving – Backyard Concrete Sidewalk Concrete Repair – Sidewalk Concrete caulking – Sidewalk concrete remover – sidewalk concrete fix – sidewalk concrete installer Concrete installer – commercial concrete contractor – residential concrete contractor – queens concrete fix – Concrete fix company Concrete Contractors nyc – Concrete company – concrete floor contractor – concrete driveway – driveway concrete fix – garage concrete garage concrete installer – repair concrete sidewalk – nyc sidewalk repair – licensed concrete contractor – Insured concrete contractors